A typical homeowner has very little idea what they are getting into, and what to expect from their roofing contractor. We have tried to put some information together to guide you through the process so that you should be able to make an informed decision.
You should have a general idea about your roof and your roofing needs by the time you get to the end of this guide.
What is a roofing pitch value?
As shown in the picture you can simply look at your house and have a general idea of how steep the roof for your house is. It varies between 1/12 to 18/12 or even more.
Now the question is, why a homeowner should bother about the roof pitch. You need to know this because it affects the total cost of replacing the roof. It is also important as the pitch dictates what type of roofing system would be ideal for the house.
A typical house with a pitch less than 7/12 has a greater risk of an ice dam than a house with a greater pitch value. Steep roofs with a pitch higher than 8/12 take more labor time, which consequently increases the overall cost.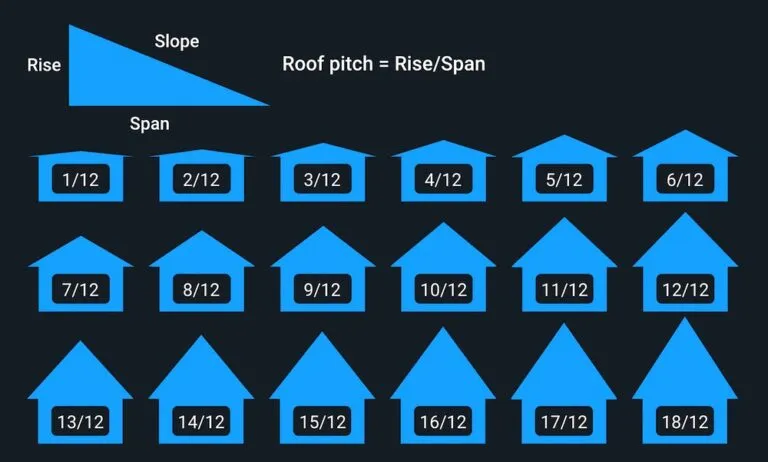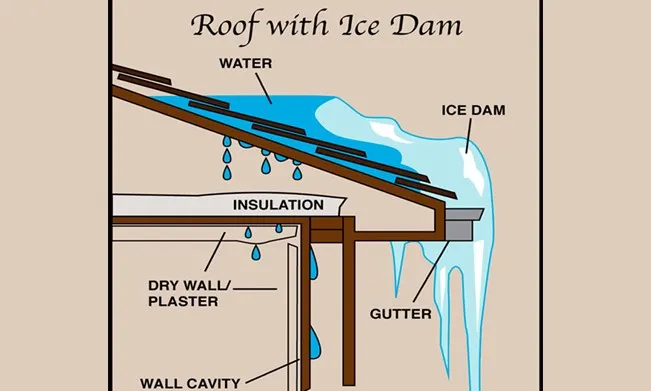 What is the ice dam on a roof?
Ice dams are formed when melting ice sits at the very edge of the roof and causes the water to get under the roof, as shown in the picture. Ice dams happen in the late winter months in general.
We install ice and water shield to prevent damage in the event of ice dam.
What is "Ice and Water Shield"?
It's a thin rubberized asphalt membrane that goes beneath the shingles of your roof. There is a plastic paper on the backside that is peeled off so that it can stick to the plywood decking. As the name implies, this membrane acts as a shield to your roof when you have an ice dam buildup. Typically, it only covers the first 3 feet of the roof, starting from the edge.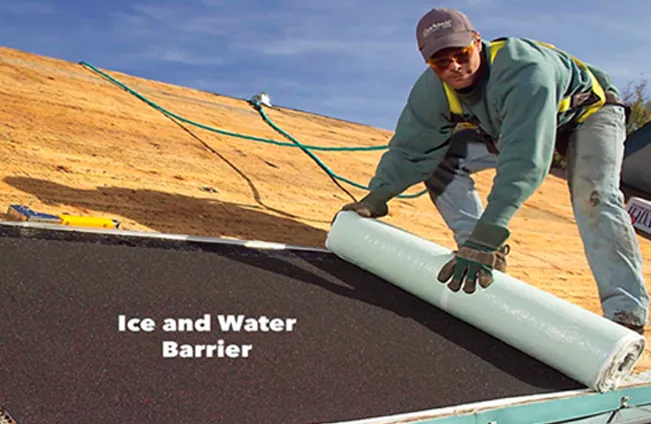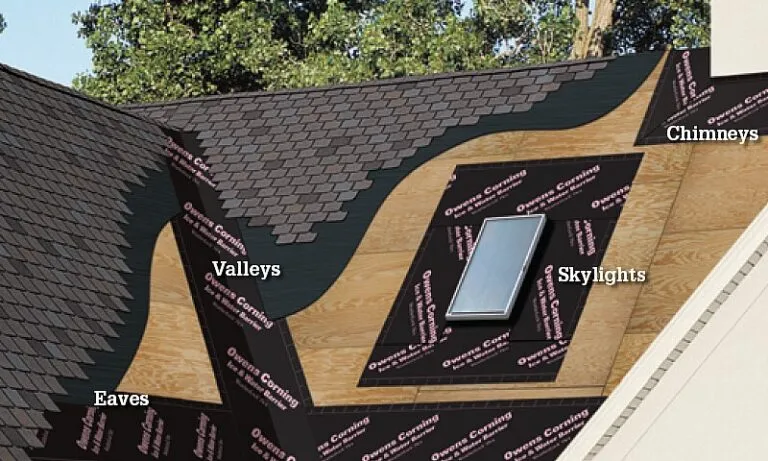 When do I need an "Ice and Water shield"?
An Ice and water shield is not a must for every roof and is certainly not required on all slopes of the roof. We recommend using ice and water shield for all the roof edges where the slope of the roof is less than 8/12.
We use the ice and water shield at critical places on your roof, such as the valleys, chimneys, etc., regardless of the pitch of the roof.
What is synthetic underlayment?
This is a new type of underlayment manufactured by weaving together polypropylene or polyethylene and a polymer to form an all-over protective barrier. It is water resistant and most commonly used these days.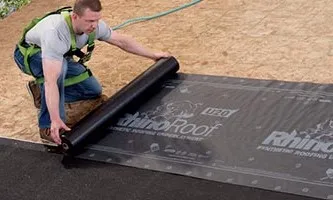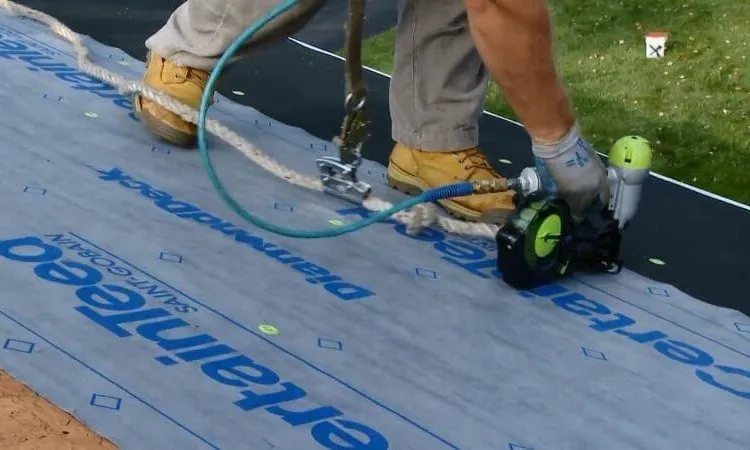 When do I need the underlayment?
Some amount of air is always trapped under the shingles, which produces moisture in between the shingles and decking during varying temperatures.  Synthetic underlayment prevents that moisture from causing mold on the decking plywood.
It is also effective in the case of an ice dam. Same as the "Ice and water shield," underlayment is also an optional layer of protection for the roof.  Even though it is not required to have it for every roof, we recommend using it for roofing slopes up to 7/12. We do not recommend underlayments for a pitch higher than 8/12 to reduce unnecessary costs to you.
What is a metal drip edge? Do I need it?
A drip edge is a piece of metal installed at the very edge of the roof before applying any type of membrane on the decking. The basic purpose of the roof edge is to prevent any water from touching the decking or even getting in between the facia and the eavestrough.
The metal roof edge is only required if there is a gap between the decking and the eavestrough or the eavestrough is installed too low. There is no need for a metal roof edge in most new build houses. You do not have to worry about whether you need the metal roof edge or not, as we will recommend it if you need it.
.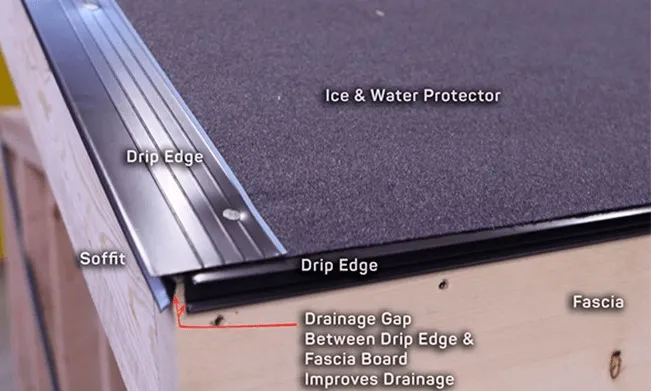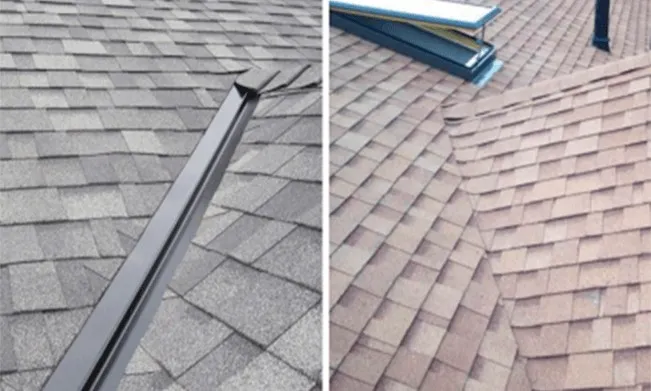 What is the difference between an open valley vs. a closed valley?
A valley is where two slopes meet up. There are basically two ways to install shingles in a valley, Keeping the valley open by installing metal in the middle or closing it after using an ice and water shield under it.
None of the valleys is better than the other. The type of valley to be used is based on the design of the roof. Open valleys are the best when the meeting sides have the exact same slope.
On the other hand, it is always a good idea to close the valley when one side has a pitch value far higher than the other; for example, if two meeting sides are 9/12 and 6/12, it is best to close the valley to prevent water from getting underneath during ice dams. We may use either type of valley as required by the roof design.
Vents are cut through the roof decking to provide proper flow of air out of the attic. There are a number of ways to ventilate the roof by using different types of vents. According to the Ontario building code, one vent of 8×8 inches is required for every 300 sq. feet of attic space.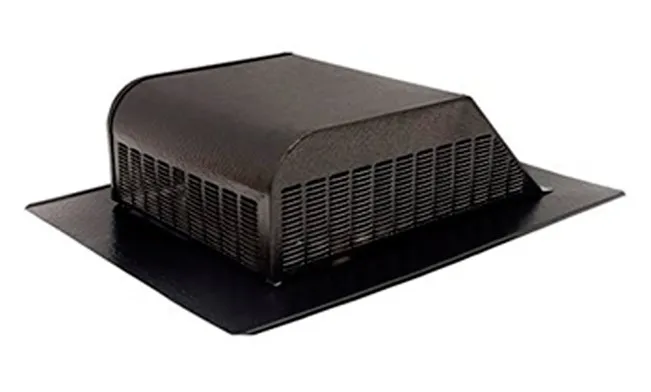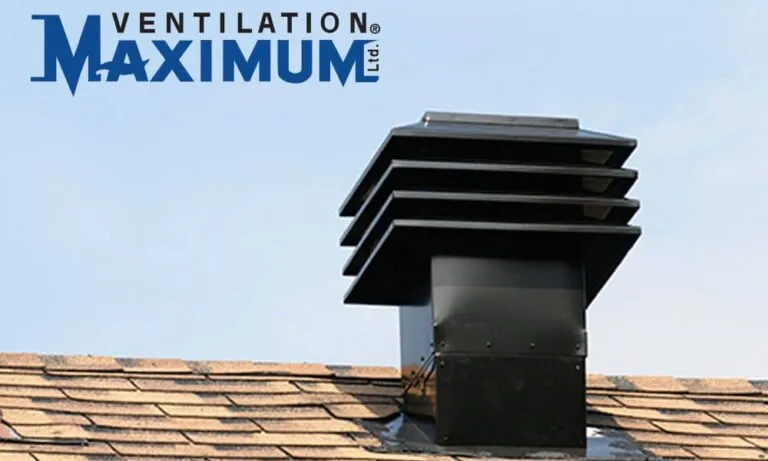 Max vents are bigger in size, and they are much more effective. They have a unique design that helps suck the air out of the attic. One max vent can cover up to 1200 square feet of attic space. Max vents can not be used in combination with any other type of vents.
What is a power attic vent?
These are very effective for low-slope houses when there is very little attic space. These vents are power operated to force the air out of the attic. These are also used when one side or some specific area of the roof stays warmer than the other places.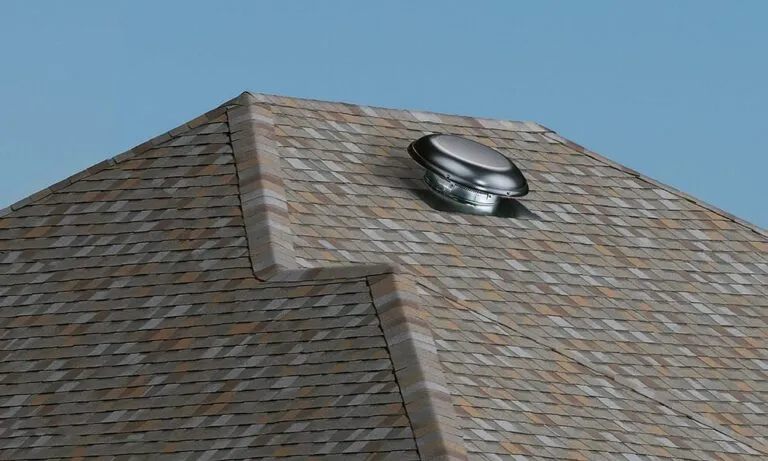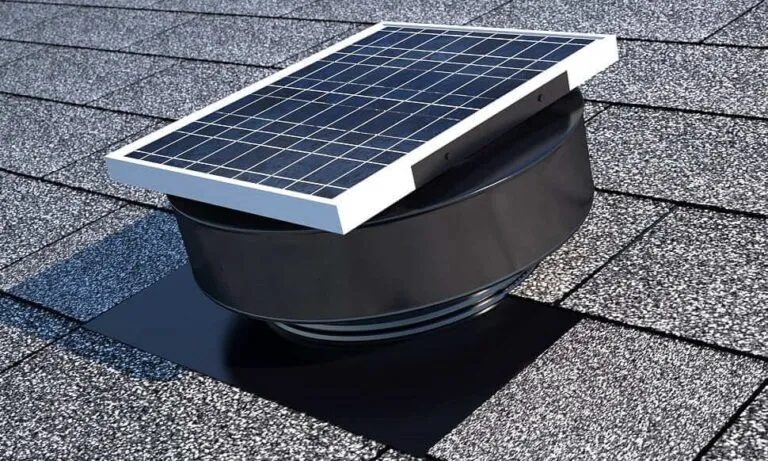 What is a solar-powered vent?
The solar vent has a built-in solar panel placed on top of the vent. This panel provides power to the fan inside the vent, which pushes air out at all times. 
This type of vent can be very useful in improving attic ventilation by providing constantly forced air circulation. 
What is a whirly bird/turbine vent?
These vents were very common a few years ago but not anymore. They tend to break down during wind storms, and they also start making noises only after a few years. That is the reason why we do not recommend these vents anymore.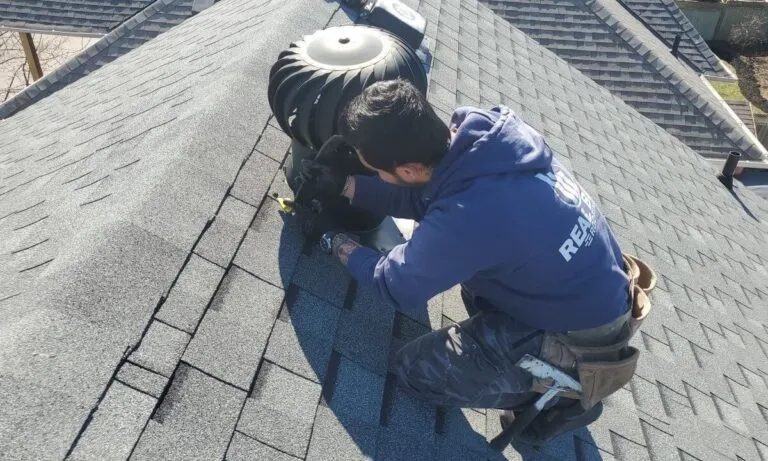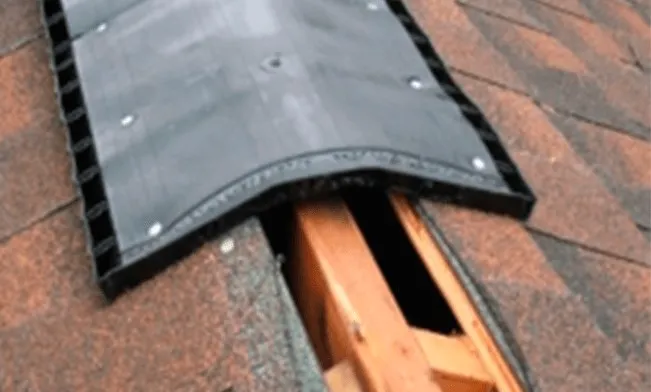 A ridge vent is installed by cutting the decking at the very top. This type of vent is best to prevent any air from being trapped at the top of the attic and prevent any moisture build-up.
The main advantage of this type of vent is that the ventilation is uniformly distributed along the top ridges, which helps prevent any air traps. 
What is a plumbing stack flashing?
The flashing is used to flash around the plumbing pipes sticking out of the roof. The rubber around the hole makes a perfect seal around the pipe and keeps the water out. We only use Duraflow products as they are the most durable ones available in the market.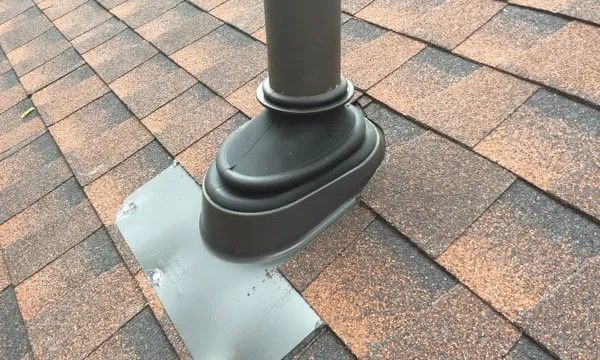 Hars Singh
November 23, 2023.
Very professional and organized
Vishal Mehndiratta
November 13, 2023.
Showed up as promised. Efficient service and reasonable pricing.
Paal Wirring
November 7, 2023.
They did great job with changing my shingles.They were professional, quality workmanship and responsible.I will be recommending them. 👏👏
Dibyashowry Khanal
November 5, 2023.
—-
Amanda Fruci
October 22, 2023.
Working with Real Blue was a wonderful experience! They were very responsible to our questions, the coordination was seamless and they were in and out in 1 day. Highly recommend them for your roofing needs.
Jorge Casimiro
October 21, 2023.
Great roofing company. Very professional, no hidden fees. Contract and warranty in order. They use quality material for the job. Price was the best I could find. They did a great cleanup job around the entire property when they were finished. Definitely recommend this company. Thanks to you and your crew Rythm!
Surender Malkani
October 21, 2023.
Real blue roofing did a great job for our roof replacement. Ontime and high quality.
sherif shalaby
October 10, 2023.
My roofing project with Real Blue Roofing services started out with a very professional Roofing proposal/estimate depicting a detailed scope of work with lots of Q&A that gave me the opportunity to read & learn. The team including Rythm, Deepak, Parminder, Breet and their team mates have been very professional and did an excellent roof replacement job. I do recommend all heartedly recommend them.
Have questions??
Contact Us
now to book a free inspection