As the name suggests, the flat roof is one with a roof pitch value of less than 3/12. Flat roofs are built to withstand heavy amounts of snow built up. There are various types of Flat roof systems, but we only install a two-ply torch-down system as it has the longest life span.
Technical knowledge as well as years of experience is required to handle flat roof projects. Real Blue Roofing is a team of professionals with knowledge and experience handling complex residential flat roof projects such as small balconies, roof extensions, etc. Please check out the materials we use to know more about flat roof materials.
It's common to have a flat roof for almost all commercial buildings as they provide space for large equipment such as AC units, kitchen exhaust fans, etc. These types of roofs have a utility in certain residential houses where it provides space for outdoor seating, solar panels, etc. 
A properly installed flat roof can last for more than 20 years and maintenance cost for these types of roof is generally low.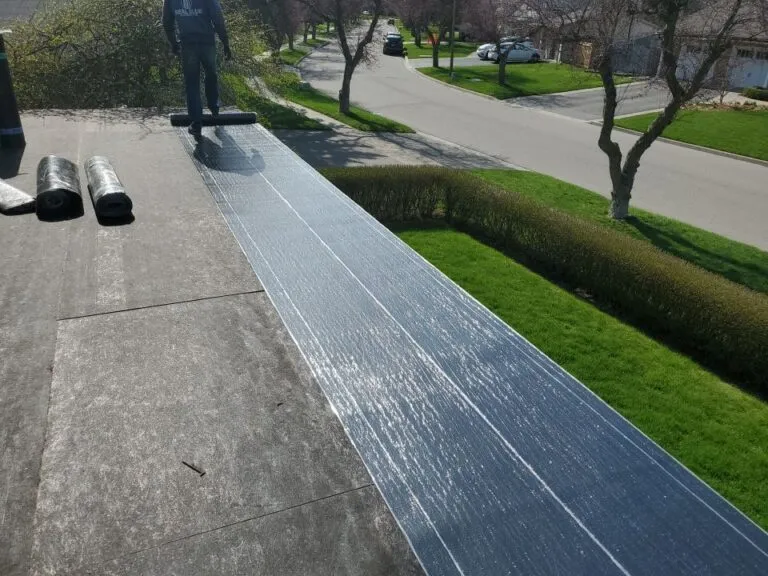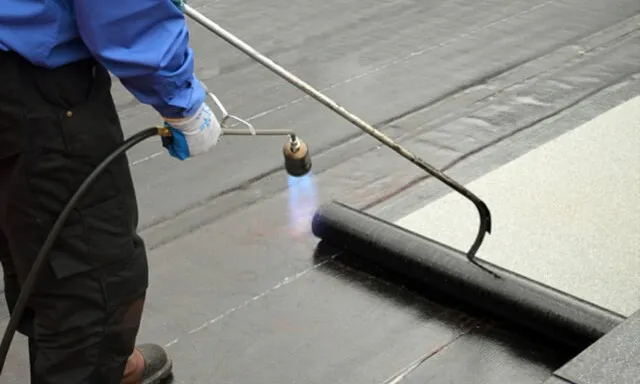 What materials are used for a flat roof?
There are different types of flat roofs available to be installed but we only install 2-ply torch-down bitumen. A fire protection board is installed on top of the insulation before installing two layers of torch-down sheets.  
A base layer is torched down with heat before torching down a cap layer with granules on the top. 
Can shingles be installed on a flat roof?
As per the manufacturer's guidelines, roofing shingles can only be installed on roofs with a pitch value of more than 3/12. Some roofers make the mistake of installing shingles on a flat roof and it is almost guaranteed to leak. 
Every year we take on many such small projects where we remove the shingles and replace the roof with a properly installed flat roof that would last for a year without any issues.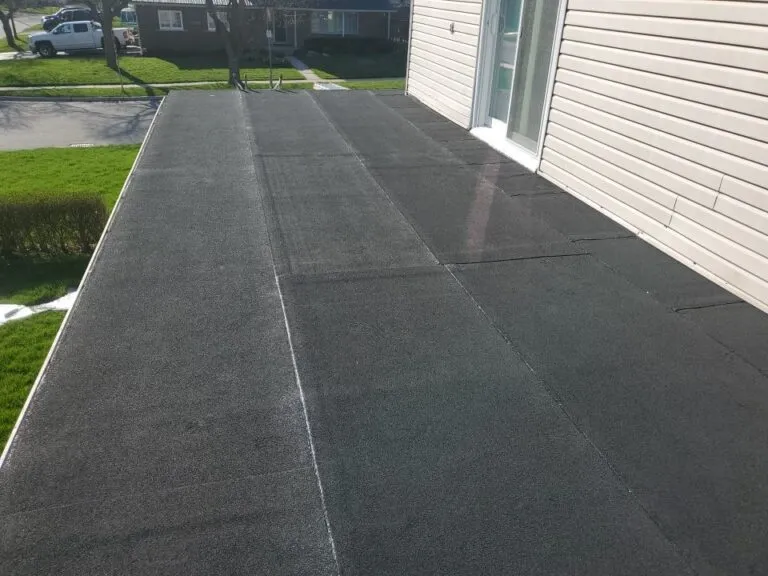 Hars Singh
November 23, 2023.
Very professional and organized
Vishal Mehndiratta
November 13, 2023.
Showed up as promised. Efficient service and reasonable pricing.
Paal Wirring
November 7, 2023.
They did great job with changing my shingles.They were professional, quality workmanship and responsible.I will be recommending them. 👏👏
Dibyashowry Khanal
November 5, 2023.
—-
Amanda Fruci
October 22, 2023.
Working with Real Blue was a wonderful experience! They were very responsible to our questions, the coordination was seamless and they were in and out in 1 day. Highly recommend them for your roofing needs.
Jorge Casimiro
October 21, 2023.
Great roofing company. Very professional, no hidden fees. Contract and warranty in order. They use quality material for the job. Price was the best I could find. They did a great cleanup job around the entire property when they were finished. Definitely recommend this company. Thanks to you and your crew Rythm!
Surender Malkani
October 21, 2023.
Real blue roofing did a great job for our roof replacement. Ontime and high quality.
sherif shalaby
October 10, 2023.
My roofing project with Real Blue Roofing services started out with a very professional Roofing proposal/estimate depicting a detailed scope of work with lots of Q&A that gave me the opportunity to read & learn. The team including Rythm, Deepak, Parminder, Breet and their team mates have been very professional and did an excellent roof replacement job. I do recommend all heartedly recommend them.
Have questions??
Contact Us
now to book a free inspection